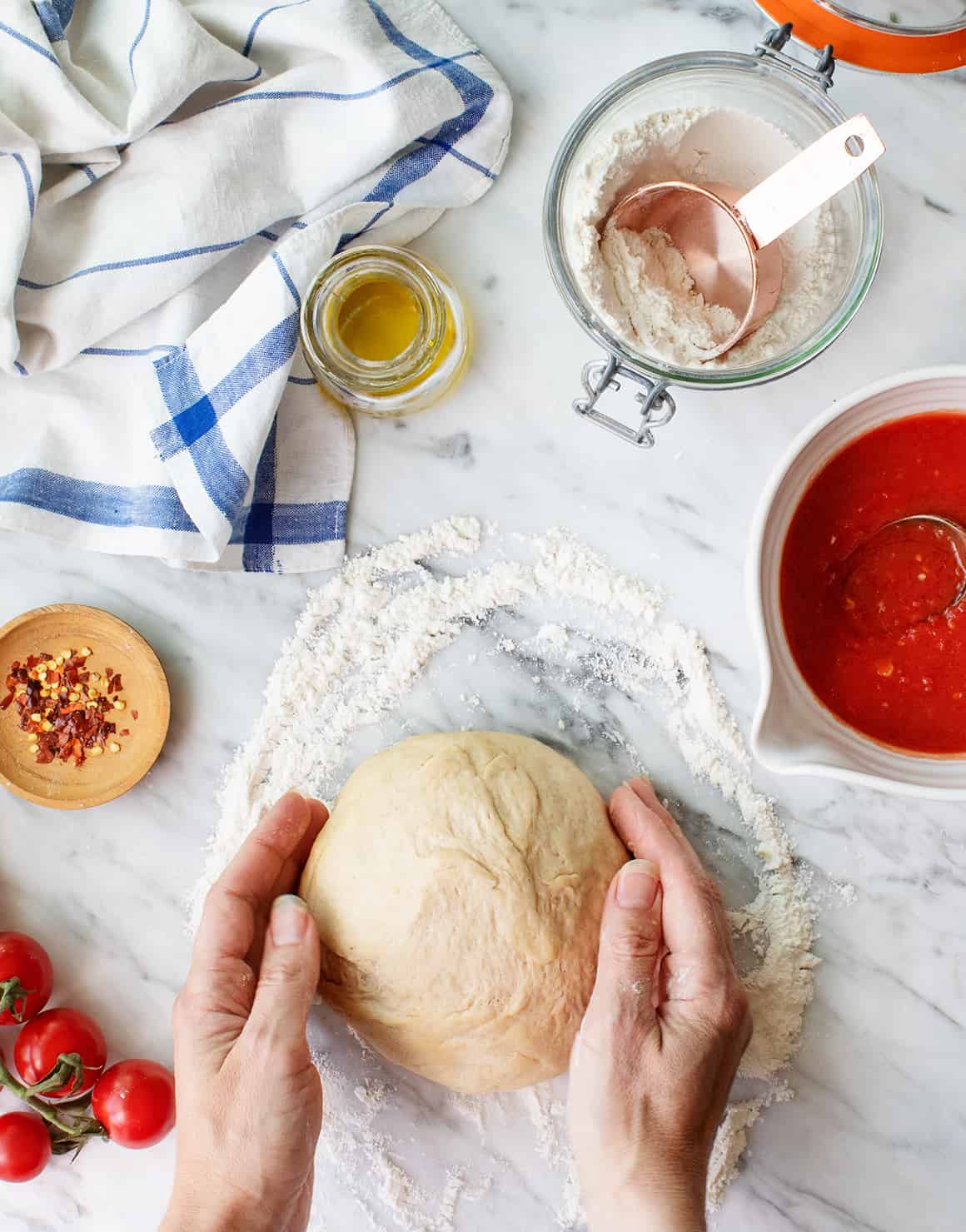 For years, I rarely made homemade pizza dough. I loved coming up with delicious veggie pizza toppings, but I'd always pile them onto fresh dough I'd pick up at the store. Making homemade pizza dough seemed fussy, but then, Jack started baking bread and even pretzels, so pizza dough seemed like a natural next step. Over time, we discovered how easy making homemade pizza dough really is. We've tried a number of crust recipes over the years, and this one is our favorite. It only requires a handful of basic ingredients, and it's chewy on the edges and crisp in the middle – everything I want in a good pizza crust!
If you think making your own crust is too time-consuming, don't worry. Most of the prep for this recipe is hands-off rising time, and you can also make the dough ahead, let it rise, and store it in the freezer for busy nights. Now, instead of getting a store bought crust when a midweek pizza craving strikes, we keep a frozen stash of dough on hand to make prepping our pizza quick & easy.
Homemade Pizza Dough Recipe Ingredients
This homemade pizza dough recipe uses just 7 basic ingredients! Here's what you'll need:
Warm water and maple syrup. Together, they feed the yeast to help the crust rise.
Active dry yeast. The yeast helps the crust become nice & puffy.
White whole wheat flour and all-purpose flour. I really like this combination – it packs a whole grain punch, but it isn't as dense as an all whole-wheat dough. If you like, you can make this recipe with 100% white whole wheat flour or 100% all-purpose flour. Just know that the crust will be denser and chewier if you opt to make it with all whole wheat.
Sea salt. Add a generous pinch for a flavorful crust.
And extra-virgin olive oil! Use it to give your homemade pizza dough essential richness, moisture, and flavor.
Let's cook.
How to Make Pizza Dough
Making this pizza dough recipe is easy! Here's what you need to do:
Stir together the warm water, maple syrup (or you could use honey), and yeast, and set the mixture aside for 5 minutes or so, until it becomes foamy.
While you're waiting for the yeast to foam, mix together the flours and salt in the bowl of a standing mixer fitted with a dough hook.
When the yeast is foamy, add it to the flour along with 1 tablespoon olive oil. Mix on medium speed for 5 minutes or so, until the dough forms a ball around the hook.
Turn the dough out onto a lightly floured surface and knead it to form a smooth ball. Transfer the ball to a large bowl brushed with olive oil, cover it, and set it aside to rise until the dough has doubled in size. Tip: putting the dough in a warm place in your kitchen, such as a sunny countertop, will help it rise faster!
When the dough has risen, turn it back out onto your lightly floured surface, and stretch it to fit your pizza pan (ours is 14 inches, but you could also use this pizza dough recipe to make multiple personal pizzas!). I love this hole-y pizza pan because it gets the bottom of the crust nice and crisp without bothering to use a pizza stone.
Cover the stretched dough and let it rest for 10 minutes before topping it with pizza sauce and your favorite toppings or baking it according to the pizza recipe you're using.
That's it!
Once you make this pizza dough recipe…
Try it with my vegan pizza, zucchini pizza, or blackberry basil pizza, or find more ideas for homemade pizza toppings here!
Click here to browse more recipes!
The post Homemade Pizza Dough appeared first on Love and Lemons.